America's Health-Care System: Where We Are Today
---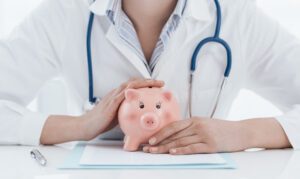 The COVID pandemic brought to light many problems with the U.S. health-care system. In the recent past, Americans who paid the highest premiums were those who purchased health insurance on the individual market. Once the Patient Protection and Affordable Care Act went into effect, millions of Americans qualified for tax credits that made their policies more affordable.
Unfortunately, many employees lost their jobs in the past year, and with it their health-care benefits. In January, President Biden authorized an open enrollment window for the federal health insurance marketplace for another three months, ending May 15 for new sign-ups.1 It was previously available for only six weeks at the end of 2020. The three-month window is available to residents in the 36 states that participate the federal healthcare.gov platform. While all of the 14 individual state-run exchanges also re-opened their enrollment window, not all observe the same timeframe. For example, Idaho is open only from March 1-31.2
It's important to remember that insurance was originally designed to cover big-ticket items.. We normally think of things like serious damage to our cars or homes, but the principle also applies to medical expenses. High-deductible health insurance plans require members pay out-of-pocket for small expenses, and coverage will kick in if something major happens – like an extended hospital stay or surgery. It may help to keep this in mind if you need to apply for health insurance during the open enrollment period. We can recommend other ways to leverage low-cost insurance policies. Give us a call.
Looking at the broader picture, the U.S. needs to address its health-care system for the same reason – to make the best use of taxpayer dollars while simultaneously protecting Americans and their ability to contribute to the country's long-term economic growth. In 2019, the nation spent an average of more than $11,000 per person on health-care expenses.3 That is significantly more than any other developed nation, and we actually lag behind most countries in the quality of care provided. In fact, we have the lowest life expectancy.4
Moreover, in 2020 the life expectancy rate actually dropped – by a year – due to the many fatalities the U.S. suffered from COVID-19.5
Given the current economy and millions of Americans still unemployed, the Biden Administration is not expected to support a Medicare-For-All option as it would increase taxes. However, Biden is expected to push repealing the current rule that prohibits Medicare from negotiating lower drug prices with pharmaceutical companies.6
Give us a call at 801-990-5050
if you would like more information on retirement income or retirement planning.
Our firm assists retirees and pre-retirees in the creation of retirement strategies utilizing investment and insurance products. Advisory services offered through B.O.S.S. Retirement Advisors, an SEC Registered Investment Advisory firm. Insurance products and services offered through B.O.S.S. Retirement Solutions.
1 Michelle Andrews. NPR. Feb. 15, 2021. "As Biden Reopens ACA Enrollment, Are You Eligible To Sign Up Or Switch Health Plans?" https://www.npr.org/sections/health-shots/2021/02/15/967366282/as-biden-reopens-aca-enrollment-are-you-eligible-to-sign-up-or-switch-health-pla. Accessed March 1, 2021.
2 Maureen Groppe. USA Today. Feb. 15, 2021. "Biden has reopened Obamacare enrollment, but how fast you need to act depends on where you live." https://www.usatoday.com/story/news/politics/2021/02/15/bidens-special-health-insurance-enrollment-varies-state/6745781002/. Accessed March 1, 2021.
3 Sam Baker. Axios. Feb. 27, 2021. "Where costs will rise." https://www.axios.com/health-care-costs-around-the-world-04b33849-9d07-4bc1-96e7-58bc497729ed.html?deepdive=1. Accessed March 1, 2021.
4 Roosa Tikkanen and Melinda K. Abrams. Commonwealth Fund. Jan. 30, 2020. "U.S. Health Care from a Global Perspective, 2019: Higher Spending, Worse Outcomes?" https://www.commonwealthfund.org/publications/issue-briefs/2020/jan/us-health-care-global-perspective-2019. Accessed March 1, 2021.
5 Adela Suliman. NBC News. Feb. 18, 2021. "Covid-19 cuts U.S. life expectancy by a year in first half of 2020, biggest drop since WWII." https://www.nbcnews.com/news/us-news/covid-19-cuts-u-s-life-expectancy-year-first-half-n1258219. Accessed March 1, 2021.
6 JD Supra. March 1, 2021. "Forecasting Healthcare Regulatory Developments in a Biden Administration." https://www.jdsupra.com/legalnews/forecasting-healthcare-regulatory-5802148/. Accessed March 1, 2021.
Ready to Take The Next Step?
For more information about any of the products and services listed here, schedule a meeting today or register to attend a seminar.