COVID's Toll: A Growing Mental Health Crisis
---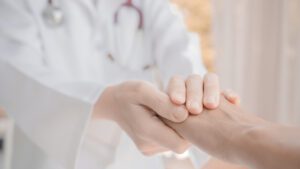 As COVID-19 outbreaks continue throughout the country, quarantining, working from home and at-home schooling have caused many people to suffer from what used to be called "cabin fever."  Cabin fever has seemed to spark mental health challenges such as anxiety, depression or just plain loneliness. And it seems to be a growing problem
According to data from the Johns Hopkins COVID-19 Civic Life and Public Health Survey last April, over 30% more adults said they were suffering from mental distress than they did two years prior. In August, 41% of adults and 75% of young adults were experiencing mental health challenges. And between May and August, there was a 15% nationwide increase in drug overdose deaths compared to 2019 — which had set the previous record at approximately 72,000 deaths.1
There is no doubt that isolation can cause mental distress, but in some cases, so does worrying about our finances. Not only do we have to worry about contracting symptoms of the coronavirus, but many people also have been affected by the economic decline. If you're worried that your financial picture is off track from where you want it to be, we may be able to help. Call to discuss income strategies to potentially help you weather financial challenges.
One reason we know the pandemic is worsening mental health issues is that more people are seeking help. Mental Health America (MHA) reports that between January and September of last year, more than 315,000 people took the standard mental health anxiety screen — a 93% increase over the total number the previous year. More than 534,000 people took the depression screen, a 62% increase over the 2019 number. Among those who experienced moderate to severe symptoms of anxiety or depression, 70% say a primary contributing factor was loneliness or isolation.2
The lock-down era has been particularly tough on children and teenagers, for whom communal play and socialization opportunities are key to their development. Studies have shown a correlation between forced isolation and loneliness among children with an increased risk of depression. The number of children who visited emergency rooms with mental health issues increased by 24% from mid-March to mid-October in 2020, compared with the same period in 2019; it rose 31% among preteens and teenagers.3
One of the most vulnerable demographics during the pandemic has been health care workers. Not only have they been overworked and worried about contracting COVID or passing it on to family members, but many have also experienced stigmatization because other people are afraid of being infected by them.4
Unfortunately, similar to the physical health impacts of the coronavirus, the effects of mental health issues may linger for many years. It's important for people to seek help and share their feelings with others so they understand they are not alone in how they feel. Taking time away from "screens" (smartphones, computers and televisions) for personal time, outdoor time and general self-care could be helpful.5
If we can help in any way give us a call at 801-990-5050.
Our firm assists retirees and pre-retirees in the creation of retirement strategies utilizing investment and insurance products. Advisory services offered through B.O.S.S. Retirement Advisors, an SEC Registered Investment Advisory firm. Insurance products and services offered through B.O.S.S. Retirement Solutions. 
1 David E. Wennberg and Patrick J. Kennedy. HealthAffairs. Dec. 14, 2020. "Too Big To Ignore: 7 Recommendations To Address Our Growing Mental Health Crisis." https://www.healthaffairs.org/do/10.1377/hblog20201210.312139/full/. Accessed Jan. 6, 2021.
2 Mental Health America. 2021. "The State of Mental Health in America." https://www.mhanational.org/issues/state-mental-health-america. Accessed Jan. 6, 2021.
3 Carmen Heredia Rodriguez. US News and World Report. Jan. 6, 2021. "Children's Hospitals Grapple With Wave of Mental Illness." https://www.usnews.com/news/health-news/articles/2021-01-06/childrens-hospitals-grapple-with-wave-of-mental-illness. Accessed Jan. 6, 2021.
4 Cara Murez Healthday. US News and World Report. Dec. 23, 2020. "Pandemic Taking Big Mental Health Toll on Health Care Workers." https://www.usnews.com/news/health-news/articles/2020-12-23/pandemic-taking-big-mental-health-toll-on-health-care-workers. Accessed Jan. 6, 2021.
5 Ashley Sharp. WJHL. Dec. 14, 2020. "Mental health focus more important than ever at start of 2021." https://www.wjhl.com/news/mental-health-focus-more-important-than-ever-at-start-of-2021/. Accessed Jan. 6, 2021.
Ready to Take The Next Step?
For more information about any of the products and services listed here, schedule a meeting today or register to attend a seminar.