Heat Wave: Power Bills and Power Options
---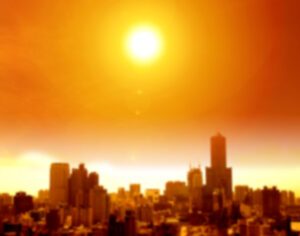 During the U.S.'s initial spring lockdown, the weather was rather temperate in most areas of the country. By the time COVID-19 outbreaks started becoming more rampant nationwide, summer was in full swing. This made for uncomfortable conditions in terms of social distancing guidelines. For example, the pandemic forced hundreds of restaurants to seat more patrons outside — right about the time a heatwave swept the country.1
Expenses like future energy bills are worth considering as part of your retirement income plan because they can cause your household bills to fluctuate once you're on a fixed income. Consider investments in your home you can make now to help curb bills, power grid shutdowns, or both. We can help you with creating your long-term budget to help you determine your future retirement income needs. Contact us to learn more.
Because this summer was particularly harsh in many areas of the country, the demand for air-conditioning increased. This tends to boost our carbon emissions footprint, which in turn contributes to global warming and extreme weather events. It's a bit of a vicious cycle.
According to the Netherlands Environmental Assessment Agency, the global demand for heating energy is expected to rise throughout the short term, and then level off around 2030. However, the energy demand for air conditioning is expected to increase rapidly all the way until 2100, even surpassing energy demand for heating by the middle of this century.2
Worldwide, there are currently about 2 billion air conditioning units in operation — mostly in residential buildings. In the U.S., 87% of homes use air conditioning. About one-third of our energy bills represent heating or cooling; in some areas, it's more than half. On an individual household basis, residents can save 3 to 5% in air conditioning expenses per each degree increase on the thermostat.3
One of the newer innovations in electric grid savings is the use of battery packs to store energy sources, including energy absorbed by solar panels. Not only can this help your own house maintain the desired temperature, but less usage can help reduce strain on your local power grid. The use of battery storage is increasing rapidly as commercial and industrial companies are using up to five times more energy storage resources this year than the previous year. This has helped reduce peak electricity demand this summer in densely populated states like New York, California, and Massachusetts.4
Energy storage units use distributed energy resource (DER) optimization software
to reduce energy by switching to the storage system at peak times instead of siphoning power from the grid. This type of software uses machine learning to determine a facility's behavior and anticipate electricity consumption, which is saved into the software's algorithm. By continuously evaluating this information within the context of market prices, utility rates, demand response, demand charges, and battery storage, the software transfers usage to energy storage resources during times when it is most financially prudent.5
If we can be of any assistance, please contact us at 801-990-5050.
Our firm assists retirees and pre-retirees in the creation of retirement strategies utilizing investment and insurance products. Advisory services offered through B.O.S.S. Retirement Advisors, an SEC Registered Investment Advisory firm. Insurance products and services offered through B.O.S.S. Retirement Solutions. 
1 Joe Little. NBC San Diego. Aug. 17, 2020. "Businesses Try to Keep Their Cool During a Heat Wave and Pandemic." https://www.nbcsandiego.com/news/local/businesses-try-to-keep-their-cool-during-a-heat-wave-and-pandemic/2387113/. Accessed Aug. 17, 2020.
2 Claudia Vergueiro Massei. World Economic Forum. Aug. 17, 2020. "3 ways to keep ourselves cool more sustainably." https://www.weforum.org/agenda/2020/08/3-ways-to-cool-us-down-more-sustainably/. Accessed Aug. 17, 2020.
3 Ibid.
4 Jennifer Runyon. Power Grid International. Aug. 4, 2020. "Enel X: Battery storage deployment up 22% over 2019." https://www.power-grid.com/2020/08/04/enel-x-battery-storage-deployment-up-22-over-2019/. Accessed Aug. 17, 2020.
5 Ibid.
Ready to Take The Next Step?
For more information about any of the products and services listed here, schedule a meeting today or register to attend a seminar.