Is it Time for a Value Play?
---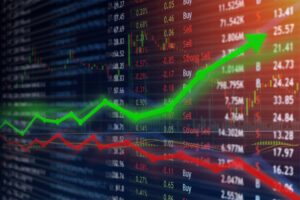 The transition from growth to value and back to growth stocks often accelerated during the pandemic. Growth-oriented stocks usually outperform when the economy is on the rise. Therefore, growth stocks took the path of the coronavirus: They tanked during the lockdown, they rose again when the economy reopened and then stumbled again until vaccines were introduced. Now that vaccination rates have stalled, and the delta variant of COVID-19 is running rampant, economists are once again pondering how growth stocks can keep up their pace.
According to the chief U.S. economist at Morgan Stanley, projections for third-quarter GDP have dropped from 6.5% to 2.9%. With this in mind, now may be a good time to work with your financial professional to use recent gains and rebalance an investment portfolio, evaluating whether to diversify with high-quality stocks in cyclical sectors. Morgan Stanley believes that a sector rotation may prompt outperformance by value stocks.1 If you'd like to discuss your current asset allocation and future growth opportunity, please give us a call.
Value investing is a strategy of choosing stocks that seem to be trading lower than their book value (as measured by company assets, revenue, dividends, earnings and cash flows). The idea is to invest in them while the stock market is underestimating their value, on the premise that their prices will eventually increase to align with the true health and potential of the company. Note that value stocks are more appropriate for longer-term investors who have the time and discipline to wait for market recognition. Also, be aware that value stocks are more likely to pay out dividends than growth stocks.2
Warren Buffett, one of the world's most successful investors, is considered an advocate of value stocks. That's because rather than look for outright stock price increases and sector momentum, he views each company holistically, considering the current share price, historical company performance, debt and profit margins.3
At this point, the growth versus value stock debate hinges largely on the direction of the pandemic. During the height of lockdowns in 2020, value stocks outperformed growth due to several factors, such as lower energy prices from reduced consumer demand. This fall, with the delta variant throwing the country back into a tailspin, it may once again be prudent to check out well-established companies, many of which have a long history of dividends and dividend growth, which may be underpriced for value.4
While value stocks are worth considering, it is more important to reiterate portfolio diversification during the pandemic, given its up-and-down effect on our economy. Diversifying across countries, industries, sectors, and investment strategies can help eliminate the follies of trying to predict the market throughout an unprecedented influence like the global pandemic.
_________________________________________________________________________________
Advisory services offered through B.O.S.S. Retirement Advisors, an SEC Registered Investment Advisory firm. Insurance products and services offered through B.O.S.S. Retirement Solutions. The information contained in this material is given for informational purposes only, and no statement contained herein shall constitute tax, legal or investment advice. The information is not intended to be used as the sole basis for financial decisions, nor should it be construed as advice designed to meet the particular needs of an individual's situation. You should seek advice on legal and tax questions from an independent attorney or tax advisor. Our firm is not affiliated with the U.S. government or any governmental agency. Please note that we are unable to accept any trade requests via email, voice message or text.
1 Lisa Shalett. Morgan Stanley. Sept. 14, 2021. "Next Market Rotation Could See Value Stocks on Top." https://www.morganstanley.com/ideas/market-rotation-value-stocks. Accessed Sept. 16, 2021.
2 Niladri Mukherjee. Merrill Lynch. Aug. 17, 2021. "What is a value stock?" https://www.merrilledge.com/ask/investing/what-is-a-value-stock. Accessed Sept. 16, 2021.
3 Investopedia. Dec. 22, 2020. "Warren Buffett: How He Does It." https://www.investopedia.com/articles/01/071801.asp. Accessed Sept. 16, 2021.
4 Dan Rosenburg. TD Ameritrade. Aug. 11, 2021. "Growth vs. Value Stocks: What's the Outlook Post Pandemic?" https://tickertape.tdameritrade.com/investing/growth-vs-value-stocks-post-covid-16743. Accessed Sept. 16, 2021.
Ready to Take The Next Step?
For more information about any of the products and services listed here, schedule a meeting today or register to attend a seminar.