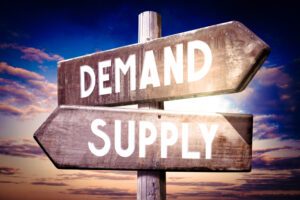 Remember when America ran out of toilet paper? There's a chance that might happen again.
Yes, COVID-19 continues to ravage other countries where we have outsourced the manufacturing of many of our most commonly used household items — but there's more to the story now. Production has ramped back up as vaccines are disseminated in Asian countries, but not to the level of America's rapidly increased demand. On top of that, congested ports and shipping issues abound.
In fact, companies are paying much higher prices for sea freight and ground transportation. In many cases, this is due to labor shortages among field harvesters, factory workers, and truck drivers. In the U.S., as more people go back to worksites and kids are back in school, there's been a surge in demand for things like coffee, soft drinks, school lunch snacks (Kraft Heinz Lunchables), and pet food.1
No one is suggesting you go out and stockpile your favorite brands — that's actually how shortages occur. If everyone just keeps buying at their normal consumption rate, chances are good that supplies can meet demand. However, it's important to understand that the pandemic is not just a health issue, but also an economic issue. And as long as it continues to spread, we will continue to suffer economic problems, from sold-out items in the grocery store to Zaxby's running out of Zalads on a Friday night.
It's important to stay flexible with your product selections and household budget and to maintain a savings security blanket. Particularly for retirees on a fixed income, there may be times when you could use a little extra to augment your household budget. We're happy to discuss ways to position your assets so you can incorporate flexibility in your spending without risking your financial future. Feel free to give us a call.
The chief financial officer at Costco recently reported that the retailer will begin imposing purchase limits again on household essentials such as toilet paper, bottled water, and cleaning supplies. Remember, these precautions are not because the world is short on toilet paper; it's not. It may just be stuck in a port somewhere. To make sure stores can maintain available inventory on a daily basis, they need their customers to buy the usual amount of goods.2
Some items in low supplies aren't even related to the pandemic. For example, there's a shortage of chicken wings because the south-central U.S. experienced unusual winter storms. Not only that, but American demand for chicken wings has gone haywire now that people are back out eating at restaurants. The combination of high demand and low supply has led some restaurants to remove the dish from their menu altogether.3
Economists are predicting that shortages and delivery delays will plague this holiday season. If there are certain must-have items on your shopping list, buy them now. Otherwise, consider shopping small businesses to support your local community.4
You also can support local merchants by applying for a job to help out this holiday season. One way to pay higher prices on items is to get hired as a seasonal worker during the holidays this year. Hundreds of companies, from UPS to Kohls and Michaels plan on staffing up part- and full-time seasonal workers to meet the holiday shopping demand. It's a good opportunity to pick up extra income and take advantage of employer discounts for your own shopping list this season.5
_________________________________________________________________________________
Advisory services offered through B.O.S.S. Retirement Advisors, an SEC Registered Investment Advisory firm. Insurance products and services offered through B.O.S.S. Retirement Solutions. The information contained in this material is given for informational purposes only, and no statement contained herein shall constitute tax, legal or investment advice. The information is not intended to be used as the sole basis for financial decisions, nor should it be construed as advice designed to meet the particular needs of an individual's situation. You should seek advice on legal and tax questions from an independent attorney or tax advisor. Our firm is not affiliated with the U.S. government or any governmental agency. Please note that we are unable to accept any trade requests via email, voice message or text.
1 Andrea Felsted. Bloomberg. Sep. 24, 2021. "The Return of Empty Shelves and Panic Buying." https://www.bloomberg.com/opinion/articles/2021-09-24/inflation-and-supply-shortages-mean-a-return-of-empty-shelves-and-panic-buying. Accessed Sep. 29, 2021.
2 Melissa Repko. CNBC Sep. 23, 2021. "Costco brings back purchase limits on toilet paper, cleaning supplies and more." https://www.cnbc.com/2021/09/23/costco-brings-back-purchase-limits-on-toilet-paper-and-more.html. Accessed Sep. 29, 2021.
3 Rob Starr. Small Business Trends. Aug. 31, 2021. "When Will the Chicken Shortage End?" https://smallbiztrends.com/2021/08/chicken-shortage-update-august-31.html. Accessed Sep. 29, 2021.
4 Brett Holzhauer. CNBC. Sep. 25, 2021. "3 reasons to start holiday shopping today even though it's not even October." https://www.cnbc.com/select/why-you-should-start-holiday-shopping-now/. Accessed Sep. 29, 2021.
5 Nathaniel Meyersohn. CNN. Sep. 13, 2021. "Here's who is hiring for the holidays so far this year." https://www.cnn.com/2021/09/13/business/companies-hiring-holiday-jobs/index.html. Accessed Sep. 29, 2021.
Ready to Take The Next Step?
For more information about any of the products and services listed here, schedule a meeting today or register to attend a seminar.