The fine print about Social Security (it's not good)
---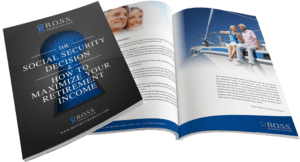 Like most people, you probably assume you're entitled to Social Security benefits when you retire.
But if you read the "fine print" at the bottom of your Social Security statement, it tells a different story …
"Your estimated benefits are based on current law. Congress has made changes to the law in the past and can do so at any time."
In other words …
The government can change the rules of the game on Social Security whenever it chooses.
With soaring inflation and a skyrocketing national debt, some of the latest research says the Social Security fund could be depleted as soon as 2029.
According to Forbes…
"The economic fallout from the pandemic is so severe that it's likely to move up the long-anticipated date of the depletion of the Social Security Trust Fund for retirement benefits from 2035 to 2033, or perhaps even 2029."
So, it's logical to assume there will be changes to your Social Security benefits in the foreseeable future. The question is, by how much?
That's why it's critical you do two things …
One, consider creating some type of social security "insurance" that would pay you income every month for the rest of your life (just like social security does today). There are options to do this and they could help make up any potential shortfall from Social Security in the future.
Two, ensure you get the most out of your social security benefits while you can with a careful and thorough strategy that considers your benefits, taxes, Medicare premiums and other benefits.
Learn how we could help you get even more income when you file for Social Security below.
___________________________________________________________________________________________________
Whenever you're ready, here are 3 ways we could help you get even more income when you file for Social Security …
Watch an on-demand, online discussion about different pillars of retirement planning. Click HERE.
Please join us for one of our upcoming free, educational events about planning for retirement. Check out our next events HERE.
Advisory services offered through B.O.S.S. Retirement Advisors, an SEC Registered Investment Advisory firm. Insurance products and services offered through B.O.S.S. Retirement Solutions. The information contained in this material is given for informational purposes only, and no statement contained herein shall constitute tax, legal or investment advice. The information is not intended to be used as the sole basis for financial decisions, nor should it be construed as advice designed to meet the particular needs of an individual's situation. You should seek advice on legal and tax questions from an independent attorney or tax advisor. Our firm is not affiliated with the U.S. government or any governmental agency. Please note that we are unable to accept any trade requests via email, voice message or text.
.
Ready to Take The Next Step?
For more information about any of the products and services listed here, schedule a meeting today or register to attend a seminar.