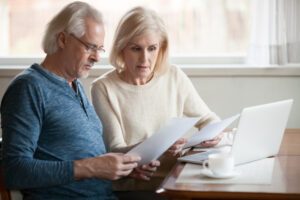 A lot of factors affect real estate prices, including interest rates, inventory, local foreclosure, and short-sale rates, and even natural disasters. This year, as it was during the Great Recession, underwater mortgages and the potential foreclosure rate is a concern. Being "underwater" or "upside-down" means that you owe more on your mortgage than the current value of your home.
This tends to happen during an economic downturn when home values drop significantly. However, being underwater on a mortgage is only a problem if you need to sell during the decline.1 If you can wait it out and keep paying your mortgage, you can pay down your principal balance. It's also possible that home prices could rebound.
As many homeowners struggle during this difficult time, it's important to understand that there are two main types of bankruptcy: Chapter 7 and Chapter 13. Chapter 7 is the most common, and it involves discharging all or a portion of outstanding debt through liquidation. This is usually because the filer does not have the income level to make it possible to repay their debts.
Chapter 13 usually involves coming up with a payment plan to pay a reduced percentage of debts based on earnings amount. A Chapter 7 bankruptcy will leave a mark on your credit report for seven to 10 years. A Chapter 13 bankruptcy is less onerous. If you work to pay down the debt according to the plan and improve your credit score, you may be able to apply for an FHA, VA, or USDA mortgage one year from the date the papers are filed with the court; two to four years for a conventional mortgage.2 Be sure to consult with a professional mortgage lender or broker to help decide what's best for your unique situation.
COVID-19 has put a strain on the mortgage industry, and that is expected to continue in 2021. The bulk of the burden is on mortgage service companies. While they do hold reserve funds for expected defaults, those funds may not be sufficient for the number of workers displaced due to the pandemic. When homeowners stop paying their mortgages, servicers stop paying mortgage holders, and the entire system could be jeopardized.3
Interestingly, real estate analytics firm Attom Data Solutions reveals that, while more homes were sold this year in Republican districts, home prices were significantly higher in Democrat-heavy districts (avg. $245,000 vs. $429,000).4 Furthermore, only 4.9% of homeowners in Democrat counties were underwater, compared to 7.2% of homeowners in Republican counties. However, property taxes were lower in Republican districts (average $2,676 vs. $5,127), and Republican counties had fewer homes in foreclosure.5
Unexpectedly, mortgage fraud overall has gone down despite the pandemic. In fact, a recent study by CoreLogic found that mortgage fraud in the 12-month period ending in June 2020 decreased 26.3% nationally. This is attributed to high refinancing rates and low-interest rates.6
If we can help in any way give us a call at 801-990-5050.
Our firm assists retirees and pre-retirees in the creation of retirement strategies utilizing investment and insurance products. Advisory services offered through B.O.S.S. Retirement Advisors, an SEC Registered Investment Advisory firm. Insurance products and services offered through B.O.S.S. Retirement Solutions. 
1 Ellen Chang. Bankrate. July 10, 2020. "Underwater or upside-down mortgage: What to know and do." https://www.bankrate.com/mortgages/underwater-mortgage-what-to-do/. Accessed Nov. 3, 2020.
2 Erik J. Martin. Bankrate. July 8, 2020. "Getting a mortgage after bankruptcy: What to know." https://www.bankrate.com/mortgages/how-to-get-a-mortgage-after-bankruptcy/. Accessed Nov. 3, 2020.
3 Peter G. Miller. Bankrate. March 25, 2020. "Is now the time to get a mortgage? Advice on what to do during the pandemic." https://www.bankrate.com/mortgages/is-now-a-good-time-to-get-a-mortgage/. Accessed Nov. 3, 2020.
4 Attom Data Solutions. Nov. 3, 2020. "Which Political Party is Better for Homeowners?" https://www.attomdata.com/wp-content/uploads/2020/10/Political-Infographic-2020.jpg. Accessed Nov. 3, 2020.
5 Otto Trading. Nov. 3, 2020. "Homeowners in Republican areas more likely to be underwater on their mortgage." https://ottotrading.live/homeowners-in-republican-areas-more-likely-to-be-underwater-on-their-mortgage/. Accessed Nov. 3, 2020.
6 CoreLogic. 2020. "Mortgage Fraud Trends Report." https://www.corelogic.com/insights-download/2020-mortgage-fraud-trends-report.aspx. Accessed Nov. 24, 2020.
Ready to Take The Next Step?
For more information about any of the products and services listed here, schedule a meeting today or register to attend a seminar.