Where Is the Housing Market Headed?
---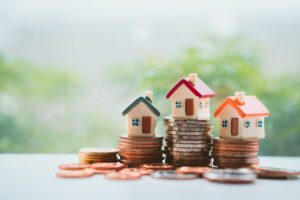 Low inventory, low-interest rates, and pandemic-induced retirements have been driving a very tight, competitive residential real estate market for several years. In the third quarter of 2020 alone, nearly 27 million Baby Boomers decided to retire rather than return to a work environment that might threaten their health and shorten their lifespan.1
To possibly recoup lost income by retiring earlier than intended, many Boomers are opting to sell the family home and downsize to a smaller, more easily-maintained house or condominium, or even reinvest in a second home. This, in turn, has put pressure on the lower-cost spectrum of the housing market, crowding out many first-time homebuyers. Millennials who were hurt early in their careers by the Great Recession are now positioned to buy their first home, only to be squeezed out by attractive cash offers from downsizing Boomers.2
Recent positive jobs reports indicate the Federal Reserve may begin tapering bond purchases by the end of the year. This could trigger higher interest rates starting in 2022. Higher interest rates won't help Millennials much, as mortgages will become more expensive. Retirees, on the other hand, who can perhaps pay for a home in cash, also benefit from higher interest rates on insurance and fixed-income products.3
Tapping home equity is a viable way to create extra income for retirement expenses. However, this strategy only works if retiring homeowners can find a less expensive property, suitable for aging in place, without overspending in today's market. After paying for a less expensive home in cash, retirees can use the sale proceeds to create a reliable income stream through a variety of insurance products. Please feel free to contact us to learn more.
While higher interest rates may cool down recent red-hot housing demand, a Wharton real estate and finance professor doesn't see the market as another bubble about to burst. He sees the competition between Boomers and Millennials as a phenomenon that will continue for several years, with demographics – rather than economic factors – driving both demand and prices.4
_________________________________________________________________________________
Advisory services offered through B.O.S.S. Retirement Advisors, an SEC Registered Investment Advisory firm. Insurance products and services offered through B.O.S.S. Retirement Solutions. The information contained in this material is given for informational purposes only, and no statement contained herein shall constitute tax, legal or investment advice. The information is not intended to be used as the sole basis for financial decisions, nor should it be construed as advice designed to meet the particular needs of an individual's situation. You should seek advice on legal and tax questions from an independent attorney or tax advisor. Our firm is not affiliated with the U.S. government or any governmental agency. Please note that we are unable to accept any trade requests via email, voice message or text.
1 Richard Fry. Pew Research Center. Nov. 9, 2020. "The pace of Boomer retirements has accelerated in the past year." https://www.pewresearch.org/fact-tank/2020/11/09/the-pace-of-boomer-retirements-has-accelerated-in-the-past-year/. Accessed Oct. 17, 2021.
2 Zillow. Oct. 14, 2021. "Baby Boomers and Millennials Are Competing for Homes, and Boomers Are Winning." http://zillow.mediaroom.com/2021-10-14-Baby-Boomers-and-Millennials-Are-Competing-for-Homes,-and-Boomers-Are-Winning. Accessed Oct. 17, 2021.
3 Zillow. Oct. 13, 2021. "Mortgage Rates Rise as Fed Points Toward Tapering." https://www.zillow.com/research/mortgage-rates-18722/?newsdataaprilmortgagerates. Accessed Oct. 17, 2021.
4 Knowledge@Wharton. Oct. 12, 2021. "Why the U.S. Housing Boom Isn't a Bubble." https://knowledge.wharton.upenn.edu/article/why-the-u-s-housing-boom-isnt-a-bubble/. Accessed Oct. 17, 2021.
Ready to Take The Next Step?
For more information about any of the products and services listed here, schedule a meeting today or register to attend a seminar.