Why Sequence of Returns is Important
---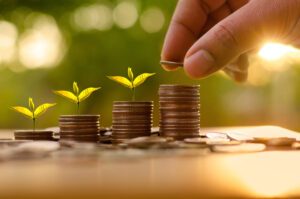 The research firm Spectrem Group estimated that at the end of 2019 there were 11 million millionaires in the U.S. By the end of the first quarter in 2020, that number had dropped by at least half a million. Clearly, the recent stock market woes have taken a toll on everyone, not just the working class.1
As we learned after the last recession, recovery can take a while— it could be years, in fact. For those on the cusp of retirement, this could be a very real obstacle. Should they retire or keep working longer than planned? The latter offers three clear benefits:
Allow investments time to recover
Continue contributing money toward a nest egg
Give Social Security time to build a larger benefit
In the future, could there be problems with that last benefit? Congress has long brushed aside the pending insolvency of Social Security. Now, the pandemic stimulus packages are poised to further contribute to federal budget problems. In fact, if no changes are made to the Social Security system, the program's income and reserves won't cover scheduled benefits within just 15 years. It is projected that by 2035, benefit levels will have to be reduced by 20 percent.2 Given current stock market losses, the uncertainty of employment opportunities following the COVID-19 crisis and the unresolved issues with Social Security, it may be time for individuals to seriously consider making changes to their financial strategies and portfolio allocations.
Sequence-of-returns (SOR) risk is the risk of what can happen if the market performs poorly in the years that correspond closely to your retirement date. Losses could lead you to withdraw more from your portfolio than you planned to cover lifestyle expenses. Ultimately, by taking more money from your principal investment, there's less capital to earn the money you may need during later stages of retirement. In short, SOR risk could cause you to outlive your retirement savings.3
We believe individuals should carefully consider creating a liability-matching portfolio. In other words, you may be able to mitigate SOR risk by adding fixed-income assets and/or an annuity to reliably provide the amount of annual income you'll need in retirement. In a liability-matching portfolio, your income production after taxes should match your liabilities (expenses).4
Retirees should allow for flexibility in their retirement expenditures to accommodate the possibility of poor market returns. However, did you know that some level of income can be insured? With an annuity, the insurance company guarantees to pay a certain level of income regardless of market losses, changes in Social Security benefits, or a global pandemic. A reliable stream of income can help mitigate the risk if one or more of the other sources of retirement income experiences a setback.  It's important to keep in mind that annuities are insurance contracts designed for retirement or other long-term needs. They provide guarantees of principal and credited interest, subject to surrender charges.
As for your current investment portfolio, it's a bit late for panic selling. Instead, you may want to consider what the U.S. and global economies will look like a year from now, and incorporate investments poised to benefit from lasting paradigm shifts. Some possibilities related to such a shift could include opportunities for working from home, localized and flexible supply-chain alternatives, social and event industry innovations, and a rise in certain demographics—possibly leading to another baby boom. To avoid selling, use retirement accounts to reallocate investments without tax implications and potentially rebalance asset allocations. While staying the course may be an appropriate strategy for long-term investors, be open to new opportunities as they arise.5
When managing sequence-of-returns risk, you may also want to consider maintaining a cash component in your portfolio moving forward. Today's economic environment is a significant reminder of why it's important to consider transferring assets to more conservative holdings as we edge closer to retirement.
If we can be of any assistance, please contact us at 801-990-5050.
Our firm assists retirees and pre-retirees in the creation of retirement strategies utilizing investment and insurance products. Advisory services offered through B.O.S.S. Retirement Advisors, an SEC Registered Investment Advisory firm. Insurance products and services offered through B.O.S.S. Retirement Solutions. Marketing materials provided by Infinity Marketing Services.
1 Ben Steverman. Bloomberg. March 26, 2020. "Coronavirus Shock Is Destroying Americans' Retirement Dreams." https://www.bloomberg.com/news/articles/2020-03-26/coronavirus-shock-is-destroying-americans-retirement-dreams. Accessed April 6, 2020.
2 Ibid.
3 Bev Bachel. Jackson National. July 16, 2019. "Order Matters in Retirement." https://www.jackson.com/financialfreedomstudio/articles/2019/07/order-matters-in-retirement.html. Accessed April 6, 2020.
4 Raymond James. Jan. 31, 2020. "Don't Let 'Sequence of Returns' Risk Ruin Your Plans." https://www.raymondjames.com/roismandewaldgroup/resources/2020/01/31/dont-let-sequence-of-returns-risk-ruin-your-plans. Accessed April 6, 2020.
5 Stephen H. Dover. Franklin Templeton. March 18, 2020. "Quick Thoughts: Pessimists may miss the up market – don't become one." https://www.franklintempleton.com/content-common/market-perspective/en_US/quick-thoughts-pessimists-may-miss-the-up-market-dont-become-one-US.pdf. Accessed April 6, 2020.
Ready to Take The Next Step?
For more information about any of the products and services listed here, schedule a meeting today or register to attend a seminar.