The unexpected consequences of living longer …
---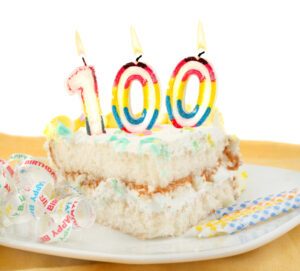 Do you know what a "centenarian" is?
It's someone who has lived to celebrate their 100th birthday.
You're going to be hearing a lot more about centenarians in the near future.
Why? According to Pew Research … The number of centenarians is projected to swell from 500,000 people today, to more than 3.7 million in the next 30 years.
So you could live a lot longer than you think.
That's great news on the surface, but it comes with some significant financial challenges.
And that's why we made the financial consequences of living a longer life a part of our Retirement Planning Checklist.
Below are three financial consequences of living a long life …
#1 The longer you live, the more you'll pay for healthcare and medical expenses.
According to the latest estimates (from Employee Benefit Research Institute), the total out-of-pocket spending for the average 65-year-old couple retiring today could be $325,000.
And those with known health issues could be on the hook for even more money.
#2 The longer you live, the greater the chance you'll need some form of long-term care.
According to The Motley Fool, "It's easy to assume you won't need to worry about long-term care, but actually, a whopping 70% of seniors 65 and over wind up needing some care of this nature."
And long-term care isn't cheap. According to some of the latest research, the cost of a shared nursing home room could cost $90,155, and a private nursing home room $102,200.
#3 The longer you live, the greater the risk you'll face major stock market corrections.
According to Kiplinger, "From 1926-2017, bull markets lasted an average of 9 years." If you do the math, that means every decade (or so) your savings and investments could take a major haircut. And if you must withdraw money from your retirement accounts during these market downturns, the long-term effects could be devastating.
So, here's the bottom line …
We all dream of living a long life. And the chances of that happening are growing by the day. Just be sure you have a plan to make your money lasts as long as you do.
Otherwise, you run the risk of being 85 or 90 years old; being full of life, and flat broke.
To learn more about how you could make your money go further in retirement, check out the three options below.
___________________________________________________________________________________________________
Whenever you're ready, here are 3 ways we could help you turn your savings into an income workhorse in retirement.….…
Watch an on-demand, online discussion about different pillars of retirement planning. Click HERE.
Please join us for one of our upcoming free, educational events about planning for retirement. Check out our next events HERE.
To learn how you could create multiple streams of income that last las long as you do, schedule a free analysis with one of our fiduciary advisors by calling (801) 682-1493.
Advisory services offered through B.O.S.S. Retirement Advisors, an SEC Registered Investment Advisory firm. Insurance products and services offered through B.O.S.S. Retirement Solutions. The information contained in this material is given for informational purposes only, and no statement contained herein shall constitute tax, legal or investment advice. The information is not intended to be used as the sole basis for financial decisions, nor should it be construed as advice designed to meet the particular needs of an individual's situation. You should seek advice on legal and tax questions from an independent attorney or tax advisor. Our firm is not affiliated with the U.S. government or any governmental agency. Please note that we are unable to accept any trade requests via email, voice message or text.
.
Ready to Take The Next Step?
For more information about any of the products and services listed here, schedule a meeting today or register to attend a seminar.