Vaccines and Technology: Where to Get Help
---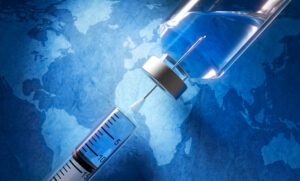 One of the biggest flaws in the COVID vaccine distribution plan is its heavy reliance on the internet. Meanwhile, older seniors — the first and most critical targets for the vaccine — are the least-experienced internet users.
Most state and local plans have created websites that allow people to sign up for a vaccine appointment. There has been abundant media reporting that the sign-up process and selection windows are both challenging and time consuming — but that's if you are lucky enough to have a device with an internet connection and know where to go and what to do. But if you are someone who does not have a lot of experience with technology, it can be challenging to navigate through. In short, older Americans in particular (as well as people without computers) need help.
Of course, help is hard to give during a pandemic, when most older Americans are locked down in their homes and discouraged from letting people — even family members — into their homes. So how are we supposed to get this vulnerable demographic vaccinated in a timely fashion?
In some areas, hometown heroes have stepped up to fill that void. For example, a 14-year-old high school freshman in Chicago learned to navigate the vaccine registration system in Florida to help his grandparents secure vaccine appointments. He eventually developed a system and recruited about 50 volunteers to help secure appointments for seniors. Recognizing the need in his own hometown, he started working with a Facebook group called Chicago Vaccine Hunters. Now he responds to individual requests and maintains a spreadsheet of where each participant is in the application process, searching for hours every night trying to book an appointment at a suitable location for each person.1
After a New Jersey woman's father died of COVID last October, she learned the vaccine scheduling system and spends her spare time making appointments for seniors. A mother of two and primary breadwinner for her family, the woman finds older Americans through the New Jersey COVID Vaccine Info Facebook page.2
You can see the problem here — these volunteers are helping older Americans who post on Facebook. But what about people who aren't on Facebook? According to one health care professional, the challenge starts at the top. We have a "federally financed vaccine being distributed through a state-based system, with a health care system that's private-sector based." These three entities generally work independently of each other, so technology is basically the only way to connect them.3
But it still leaves hundreds of thousands of older Americans in the lurch if they do not have digitally minded family and friends to help them. This brings us to an important question — have you checked on older neighbors? Your Aunt Edna who lives alone? Your mentor who retired years ago? Now might be a good time to call and ask if they would like help setting up an appointment for a vaccine.
If you need a place to start, the Centers for Disease Control and Prevention has developed a centralized website, VaccineFinder.org, where Americans can search for nearby vaccination locations with doses available. Note that this website does not let you schedule an appointment; it simply lists locations available in your area.4
When it comes to scheduling a vaccine, be aware of the following tips:
Some vaccine sign-up platforms (including a major retail pharmacy) do not allow you to register another person; it must be done by the receiver.
It helps to be flexible; you'll have more choices if you're willing to drive further or get a shot at any time of day.
According to UCHealth, the following are four reasons to delay getting the vaccine.5
If you've recently had COVID-19. You should be recovered and have completed your isolation period before getting a vaccine. Isolation is generally 10 days but may be longer if you were hospitalized or have certain medical conditions.
If you were exposed to COVID-19, wait 14 days from your exposure. If you haven't developed symptoms in that time, you can come to your vaccine appointment.
Wait 90 days if you have received convalescent plasma or monoclonal antibodies to treat COVID-19.
If you are due to receive a vaccine other than a COVID-19 vaccine, you should wait 14 days to get the other vaccine. If you have already received a vaccine other than the COVID-19 vaccine, you should wait 14 days before getting either the first or second dose of the COVID-19 vaccine.
Give us a call at 801-990-5050
if you would like more information on retirement income or retirement planning.
Our firm assists retirees and pre-retirees in the creation of retirement strategies utilizing investment and insurance products. Advisory services offered through B.O.S.S. Retirement Advisors, an SEC Registered Investment Advisory firm. Insurance products and services offered through B.O.S.S. Retirement Solutions.
1 Marisa Iati. The Washington Post. Feb. 24, 2021. "People are struggling to get vaccine appointments. A 14-year-old stepped in to help." https://www.washingtonpost.com/lifestyle/2021/02/24/chicago-benjamin-kagan-coronavirus-vaccine/. Accessed Feb. 25, 2021.
2 Elena Nicolaou. The Oprah Magazine. Feb. 17, 2021. "These New Jersey Residents Are Getting Vaccine Appointments With a Little Help From Strangers." https://www.oprahmag.com/life/health/a35589162/new-jersey-facebook-group-covid-vaccine-appointments/. Accessed Feb. 25, 2021.
3 Selena Simmons-Duffin. NPR. March 12, 2021. "How To Sign Up For A COVID-19 Vaccine In Your State." https://www.npr.org/sections/health-shots/2021/02/18/967448680/how-to-sign-up-for-a-covid-19-vaccine-in-your-state. Accessed March 16, 2021.
4 Rebecca Robbins and Sheryl Gay Stolberg. The New York Times. Feb. 24, 2021. "Helping People Find Covid-19 Vaccines Is Aim of C.D.C.-Backed Site." https://www.nytimes.com/2021/02/24/business/vaccine-finder-org.html. Accessed Feb. 25, 2021.
5 Erin Emery. UCHealth. Feb. 8, 2021. "How to prepare before getting a COVID-19 vaccine." https://www.uchealth.org/today/how-to-prepare-before-getting-a-covid-19-vaccine/. Accessed Feb. 25, 2021.
Ready to Take The Next Step?
For more information about any of the products and services listed here, schedule a meeting today or register to attend a seminar.