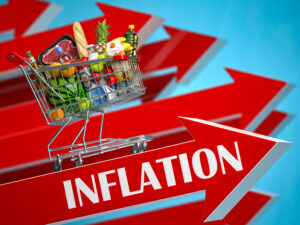 Inflation was already on the rise before we learned about the omicron variant. Now on top of supply-chain shortages and transportation disruptions, Federal Reserve Chairman Jerome Powell recently observed that a resurgence of COVID-19 cases could reduce the consumer-driven boom we've enjoyed for the past few months. Concerns about safety could result in more workers being sent back home to work and small businesses needing to cut back staff after the holidays, further slowing economic progress.1
To date, much of the blame for higher inflation has been attributed to supply disruption. In the past, when inflation reared its ugly head, the Fed could douse rising prices by reducing interest rates.2 Unfortunately, supply shortages and COVID-influenced employment rates are not easily resolved by adjusting interest rates.
Perhaps the greatest lesson we can learn from these trying times is that we can't always rely on the government, employers or the stock market to resolve our financial troubles. The best we can do is create a plan based on our wants, needs and long- and short-term goals, and stick with it. That can be tough to do whenever the market drops on news of a newly identified variant or soars when a vaccine is announced. While these events may create opportunities, just remember that few people ever get rich by timing the market. If you'd like us to take a look at your financial plan and make recommendations to keep you positioned to meet your goals, please feel free to contact us.
Alas, it is important to recognize that rising inflation isn't just a domestic issue; it's happening all over the world. Countries in Eastern Europe are experiencing some of the highest inflation rates in recent years, and in many cases, people are struggling to buy food or fuel their cars. With another surge of infections during the winter season, we may see more countries close or tighten their borders, further hampering global economic recovery. As supply chains get cut off, we can expect higher inflation here in the U.S.3
There is also some debate as to whether companies are taking advantage of rising inflation to boost their profit margins. In fact, nearly two out of three of the largest U.S. corporations have reported higher profits this year than pre-pandemic. And yet, perhaps due to increased consolidation and the power that gives large companies to set prices, inflation continues to rise.4
In recent months, the Biden administration has attempted to address inflation through various means, from negotiating changes with ports and container companies, to improving government benefit programs, to launching investigations into price gouging. One tactic he has yet to implement is easing the current tariffs on goods imported from China, which Treasury Secretary Janet Yellen says could have a "disinflationary" effect.5
_________________________________________________________________________________
Advisory services offered through B.O.S.S. Retirement Advisors, an SEC Registered Investment Advisory firm. Insurance products and services offered through B.O.S.S. Retirement Solutions. The information contained in this material is given for informational purposes only, and no statement contained herein shall constitute tax, legal or investment advice. The information is not intended to be used as the sole basis for financial decisions, nor should it be construed as advice designed to meet the particular needs of an individual's situation. You should seek advice on legal and tax questions from an independent attorney or tax advisor. Our firm is not affiliated with the U.S. government or any governmental agency. Please note that we are unable to accept any trade requests via email, voice message or text.
1 Thomas Franck. NBC News. Nov. 29, 2021. "Omicron variant means 'increased uncertainty for inflation,' Fed Chair Powell says." https://www.nbcnews.com/business/economy/omicron-variant-means-increased-uncertainty-inflation-fed-chair-powell-rcna7004. Accessed Nov. 29, 2021.
2 Kimberly Amadeo. The Balance. Nov. 11, 2021. "How the Federal Reserve Controls Inflation." https://www.thebalance.com/what-is-being-done-to-control-inflation-3306095. Accessed Dec. 10, 2021.
3 Justin Spike, Paul Wiseman and Vanessa Gera. AP News. Nov. 29, 2021. "Food, gas prices pinch families as inflation surges globally." https://apnews.com/article/coronavirus-pandemic-lifestyle-health-business-poland-f559465c6a822d12b2dd513f122d5a31. Accessed Nov. 29, 2021.
4 Dominick Reuter and Andy Kiersz. Business Insider. Nov. 16, 2021. "Corporations are using inflation as an excuse to raise prices and make fatter profits — and it's making the problem worse." https://www.businessinsider.com/corporations-using-inflation-as-excuse-to-reap-fatter-profits-reich-2021-11. Accessed Nov. 29, 2021.
5 Reuters. Nov. 19, 2021. "Factbox: To battle inflation, Biden targets supply chains, gas, meat packers." https://www.reuters.com/markets/commodities/battle-inflation-biden-targets-supply-chains-gas-meat-packers-2021-11-19/. Accessed Nov. 29, 2021.
Ready to Take The Next Step?
For more information about any of the products and services listed here, schedule a meeting today or register to attend a seminar.