What the Stimulus Could Mean for Investors
---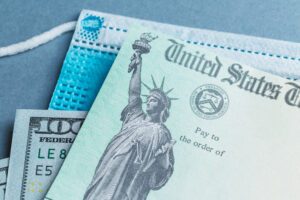 Millions of Americans have embraced the new relief money resulting from the $1.9 trillion America Rescue Plan. They've been able to pay for utilities and put food on the table while looking for employment. Those who maintained their jobs throughout the pandemic have embraced the payout as well, but for different reasons. For them, it's not about survival, it's about ways to spend that lovely windfall.
It's important to recognize that the new stimulus bill, passed at the same time that vaccine distribution became widespread, is not just about helping households in financial distress. It's also about jumpstarting the economy right about the time people can get back out and find work. That's why it's called a stimulus bill — to stimulate spending. Households that need the money can spend it on consumer staples or pay down debt.1
If you're looking to invest your stimulus money in an insurance or financial product, we can help. Contact us for a comprehensive portfolio review and advice on the best way to position your assets for your financial goals.
Regardless of what goods and services are purchased, the US economy will benefit from households spending. The more consumer spending, the faster the economy can recover and grow. The more it grows, the more demand for consumer goods will increase jobs, and jobs create more spenders and taxpayers. Increased sales and income taxes put more money in government coffers, which can then be used to pay down the debt acquired by the three stimulus bills passed during the pandemic.
Sectors and companies standing to benefit from the stimulus may be of particular interest to investors as we weave our way out of this health and economic crisis. Analysts at UBS Global Wealth Management expect capital to rotate out of tech and growth stocks and into cyclical sectors that will benefit from higher growth and a steeper yield curve, including financials, industrials, and energy stocks. Consumer discretionary stocks poised for growth include companies in travel, leisure and hospitality sectors, as well as Amazon. Unemployed workers will likely use enhanced jobless benefits to pay for rent, which benefits residential REITS.3
Even in the wake of a pandemic, there are always winners. For example, vaccine maker Moderna has been one of the highest performing stocks throughout the last year and a half. And now, the stimulus bill provides an additional $160 billion for vaccine development and distribution, which is a boon for pharmaceuticals.
Moving forward, investment analysts see underpriced "value stocks" gaining more momentum than growth stocks. While tech company stocks have soared during the pandemic, a virus-free country bodes well for airlines, hotel chains, movie theatres and other industries shut out by social distancing restrictions.4
Give us a call at 801-990-5050
if you would like more information on retirement income or retirement planning.
Our firm assists retirees and pre-retirees in the creation of retirement strategies utilizing investment and insurance products. Advisory services offered through B.O.S.S. Retirement Advisors, an SEC Registered Investment Advisory firm. Insurance products and services offered through B.O.S.S. Retirement Solutions.
1 Martha C. White. NBC News. Feb. 8, 2021. "Stimulus checks that don't get used right away are still 'economic rocket fuel,' experts say." https://www.nbcnews.com/business/economy/stimulus-checks-still-boost-economy-even-if-money-goes-savings-n1257073. Accessed March 15, 2021.
2 Palash Ghosh. Forbes. March 15, 2021. "Amazon, Six Flags, Square: Here Are The Stocks Ready To Rise Thanks To New Stimulus Checks." https://www.forbes.com/sites/palashghosh/2021/03/15/amazon-six-flags-square-here-are-the-stocks-ready-to-rise-thanks-to-new-stimulus-checks/?sh=2ebd86071a29. Accessed March 15, 2021.
3 John Hyatt. Nasdaq. March 12, 2021. "What Biden's $1.9T Stimulus Means for Investors." https://www.nasdaq.com/articles/what-bidens-%241.9t-stimulus-means-for-investors-2021-03-12. Accessed March 15, 2021.
6 Jesse Scott. Conde Nast Traveler. Feb. 26, 2021. "Miami's Coolest New Hangout Spot Is Under the Metrorail Train Tracks." https://www.cntraveler.com/story/miamis-underline-first-phase-open. Accessed March 9, 2021.
Ready to Take The Next Step?
For more information about any of the products and services listed here, schedule a meeting today or register to attend a seminar.